After more than 15 years of publications, let's try to summarize the musical journey of this legendary trio, with musical changes, new ideas and future projects.
It is the year 2000.
In the month of May of that year, a single is published with the name "Volume One", the authors are Jono Grant and Paavo Siljamäki, two unknown under the name Anjunabeats, the same name is the label founded where this production is released. We are in London and the characters in this story are actually three, there is also one who by name is Tony McGuinness. They decide to give a definitive name to their musical philosophy: Above & Beyond. At the same time, a remix of a historical piece is published, Chakra's "Home": it is the beginning of an idea that will forever change the history of trance music.
Their musical ascent occurs in the perhaps best historical moment of trance music, is the period of the consecration of Dj Tiesto and Armin van Buuren, the "Tiesto in concert" is an absolute novelty characterized by a historical album while the radio program A State Of Trance continues to be increasingly successful. In Great Britain instead one lives and listens to a much more "bad" trance, the one often called "UK Trance", is also the birth of the young John O'Callaghan, John Askew and the future Bryan Kearney as well as the confirmation of the Discover records (Chris Hampshire) , in short, the British in their own way have their own musical identity.
When we talk about Above & Beyond it becomes impossible to classify them as mere producers of electronic music. What has always distinguished the English trio is the quality imposed on each of their projects and their simple way of making something sensational with just a few elements.
Their profile has always been that of real musicians, live the music at 360 ° has led them to build different projects over the years and also to cultivate real talents, an example is their exclusivity in choosing Zoë Johnston as vocal in their biggest projects .
Their personality has not been affected by any musical crisis, not even the one that experienced the trance at the end of the first decade of the new millennium for a certain period, every new development has always been lived as a musical world apart, different from the often schematic works that marketing requires.
Indeed, we can say that in the last period they have tried to get closer to another type of audience and they did it made both with musical productions and as participants in different festivals but always in their way of being brilliant.
But it is necessary to take a step back. We know very well how in recent years the confirmation of EDM accompanied in each case by progressive house and previously by dubstep, we have lowered the level of interest towards trance music, a change that unfortunately is part of musical progress and the desire of listeners to listen to new things, the Above & Beyond that until then had continued on their quality journey with their Anjunabeats empire, have subsequently chosen to jump into the fray and to understand how, to integrate into this new landscape. Paavo, Tony and Jono probably had several means available to get noticed, the first is probably the potential of their no-vocal tracks that has always ridden the high-impact electro / melodic wave, another highlight was the collaborations with Seven Lions, a former Dubstep producer on the big EDM scene.
Moreover, the choice to create a real partnership in the last period with Armin Van Buuren has given them more visibility towards world festivals.For over a year their presence was practically continuous both in the live ASOT and in the various transmissions recorded with Armada, the same with regard to the presence of Dutch label producers in the radioshow Group Therapy (the last were Cosmic Gate). It is a union that in this period is excellent for trance music that has only one purpose: to restore the first position to this musical genre.
Their discography instead is a masterpiece, we could quote every single musical or all the albums, but probably those that have given credibility back to the whole scenario were "We Are All We Need" in 2015, the year of the true revival of trance and "Group Therapy" previously, EP that practically launched the strongest hits.  And we haven't even mentioned the OceanLab project. But as we have already mentioned, their idea of ​​music is also something else, the choice to compose and re-elaborate several of their works has also attracted a different audience that appreciated their qualities even at an acoustic level, "Acoustic" (2014) is an absolute success.  The ability to produce on multiple fronts and more musical styles, has led them lately to want to experiment with a totally ambient album with the choice to make even their own audience participate in a sort of sessions of joga and meditation while listening. It is a novelty, yet another part of them in this splendid career that knows no pauses, indeed, as listeners we can certainly say that the last few years have given musical compositions of absolute level like never before and it seems that the next job is ready ever to pass the previous one.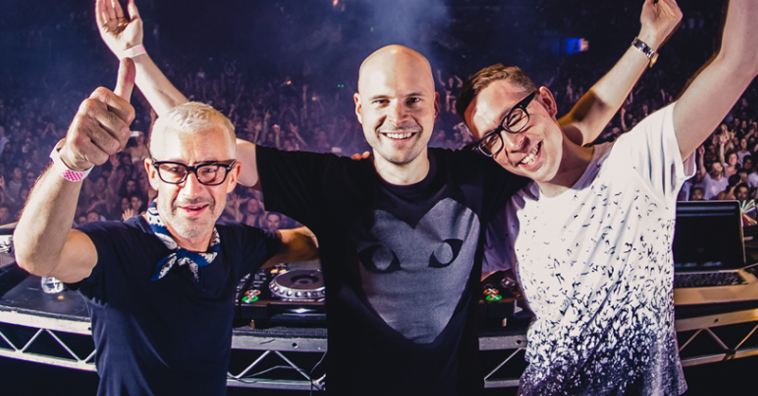 To date, the musical image of Above & Beyond is really complete, the listener of electronic music can not help but appreciate every single evolution of this musical trio, they have chosen to be appreciated more by the music market in the right way, because basically , it was worth it.
It's also difficult to predict their future move, we expect an upcoming album, that's for sure, even if several jobs are suddenly coming out without a "destination" or already present in the compilations.
Anyway … thanks Above & Beyond!